Baja California and the Sea of Cortez: Among the Great Whales
on National Geographic Venture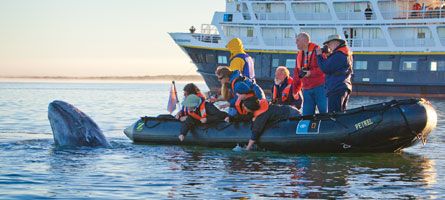 Baja California and the Sea of Cortez: Among the Great Whales
Much more than whale watching—exploring expedition-style
Unique, immersive style of travel
Each year California gray whales pause during their migrations to birth and nurse their calves in the Bahía Magdalena lagoons. For most travelers, the only opportunity to observe the mothers and calves is to bus across the peninsula for a day trip.
...
Adventure and Active
Safari, Animals, and Wildlife
About National Geographic Venture
About Lindblad Expeditions

Why Lindblad-National Geographic?
A Lindblad-National Geographic expedition is arguably the most exhilarating overseas adventure travel experience a person can have. Nothing else comes close to approximating its authenticity and all-five-senses engagement. We offer you the world's ultimate, authentic expedition experience: Discover the planet's most remarkable places, accompanied by experts able to illuminate all you see, and with cool tools to use to explore up close and personal
...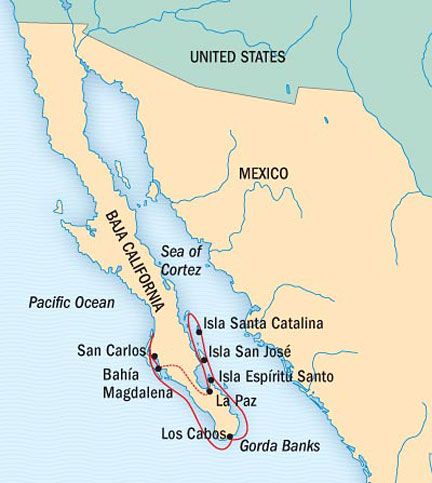 Day
Destination
1
Loreto / San Carlos / Embark
2
Bahia Almejas / Rehusa Channel / Isla Magdalena
3
Boca de Soledad
4
Magdalena Bay / Cruising
5
Gorda Banks and Cabo Pulmo
6
Los Islotes and La Paz
7
Exploring the Sea of Cortez
8
Loreto / Disembark
1
Loreto / Embark
2
Exploring the Sea of Cortez
3
Los Islotes and La Paz
4
Gorda Banks and Cabo Pulmo
5
Magdalena Bay / Cruising
6
Boca de Soledad
7
Bahia Almejas / Rehusa Channel / Isla Magdalena
8
San Carlos / Loreto / Disembark